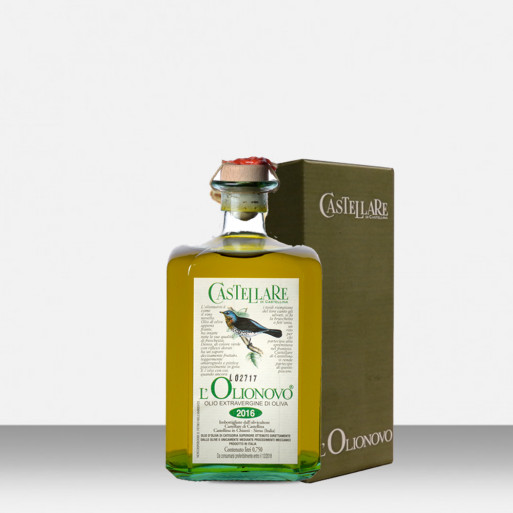  
Olionovo 2022
Unlike wine which generally improves with ageing, extra virgin olive oil offers its best qualities when it is freshly pressed. In order to underline this characteristic, Castellare has patented the name Olionovo, expression literally meaning "new oil" and used by farmers to define fresh extra virgin olive oil that has just been pressed. Characterised by a deep green colour, just the right amount of spiciness, lively and pleasant on the palate.
Tasting Notes: brilliant emerald green colour. Fruity aroma characterised by a medium intensity and hints of artichoke typical of Tuscan extra virgin olive oils, with pleasantly spicy and slightly bitter notes.
Pairings: ideal with appetisers featuring beans, fresh vegetables and fish carpaccio, also recommended for seasoning raw red meat dishes.
Data sheet
Formats available

0,25 l - 0,50 l - 0,75 l - 1 l

Number of bottles produced annually

6.000

By olives

Frantoio, Pendolino, Ascolane, Moraiolo e Leccino

Crushing

strictly cold-pressed, using a stone grinding process and cotton filtration