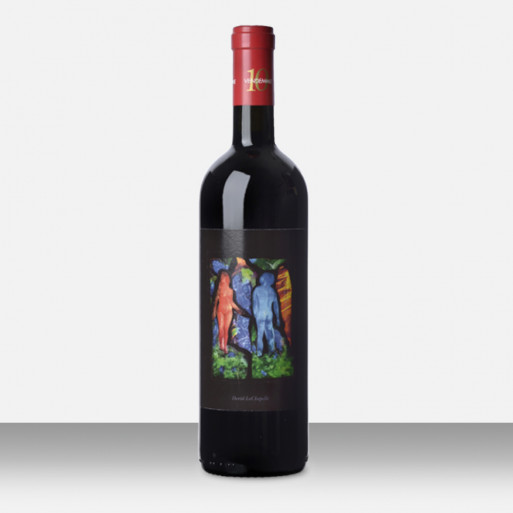  
Rocca di Frassinello ed. lim. "10 Vendemmie David LaChapelle" - Rapture of Grape
Rapture of the Grape, una collaborazione speciale tra Rocca di Frassinello (nata dalla joint venture fra Castellare di Castellina e Domaines Barons de Rothschild) e David LaChapelle, maestro di bellezza e di comunicazione, canadese di sangue lituano, già allievo di Andy Warhol.
Per i formati da 6 - 9 - 12 litri i clienti con pagamento confermato verranno contattati per concordare le tempistiche di evasione dell'ordine.
Note degustative: colore rosso rubino intenso e con riflessi granati. Un vino che riesce a coniugare forza, intensità, eleganza, con tannini morbidi che lo rendono rotondo in bocca. All'olfatto si presenta fruttato e con una bella speziatura. In bocca il gusto è profondo, ma vivace e di buon equilibrio.
Abbinamenti: si accompagna bene con carni rosse, arrosti, cacciagione e formaggi stagionati.
Data sheet
Denomination

Maremma Toscana DOC

First year

2010

Type

Rosso di grande struttura e longevità

Varieties

60% Sangiovese 20% Cabernet Sauvignon 20% Merlot

Vineyards

Gavorrano (GR)

Production municipality

Gavorrano (GR)

Vineyard name

Vigna Vecchia, Vigne Eucalipti

Type of terrain

Medium-textured

Vineyard altimetry

90 mt. s.l.m.

Cultivation system

Spurred cordon

Planting density

5.900 piante per ettaro

Yield per hectare

55 Ql

Harvest time

Fine agosto (merlot), metà settembre (sangiovese e cabernet sauvignon)

Vinification

In steel

Malolactic fermentation

Turn

Refinement

in barrique 80% nuove

Duration of ageing in barriques

14 mesi

Affinamento in bottiglia

11 mesi

Formats available

0,75 l - 1,5 l - 3 l - 6 l - 9 l - 12 l