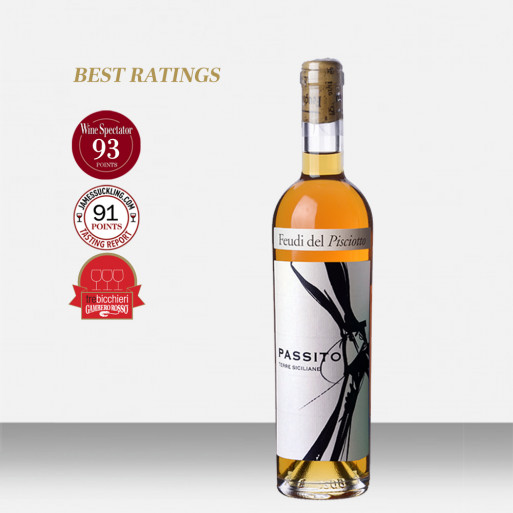  
Passito 2016
A true challenge: Gewürztraminer and Sémillon, two uncommon vines for Sicily, yet selected by Giacomo Tachis and used in equal proportions to bring to life a passito wine atypical for the island. Sémillon on its own would be too sugary. The Gewürztraminer, with its acidity, perfectly balances the wine, leaving the mouth clean. Label drawn by Gianfranco Ferrè.
Tasting notes: aromatic notes and a perfect acidity stand out. A product characterised by balanced flavours, with the perfect sweetness and offering clear hints of dried fruit, honey and rose.
Pairings: great with various desserts, also pairs well with mild cheeses.
Data sheet
Denomination

Terre Siciliane IGT

First year

2009

Type

Sweet wine

Varieties

50% Gewurztraminer 50% Semillon

Production municipality

Niscemi (CL)

Type of terrain

Melted

Vineyard altimetry

100 mt. s.l.m.

Cultivation system

Spurred cordon

Planting density

6.000 plants for hectare

Yield per hectare

50 Ql

Harvest time

last week of September

Vinification

In steel

Malolactic fermentation

Turn

Refinement

In barriques

Duration of ageing in barriques

12 months

Affinamento in bottiglia

6 months

Formats available

0,50 l